You have waited long enough. Today I can reveal the official 1-120 line for the US, thanks to the Matchbox team. Interestingly the ROW line is not yet available, presumably meaning that there will be differences, possibly in terms of model name. I will keep you informed. As explained before, some planned models had to be dropped or moved to next year. This year some military 2 packs will be making their way into Walmart. These contain one Matchbox vehicle paired with a Military Sky Buster plane. The packs will not have exclusive deco's but offer a different vehicle combo for those interested.
Your comments on the proposed line for 2014 will be most welcome. I include some responses from a typical collector which are intended to provoke further comment. At first sight, it is clear that there are 25 new models which will be numbered between 95 and 120 but only six of these will be licensed. The oldest castings will be MB222 Highway Maintenance Truck, first shown in the catalogue of 1991 and MB249 Chevy 1500 Pick-up. There is no reference to the Mega School Bus which was shown at The Gathering last July. One wonders whether this been dropped. There were not many collectors who found this bus to be appealing, but of course it was designed with children in mind. I am not sure what a Seed Shaker is but I am sure we will find out in good time.
Some of the returning models will doubtless be welcomed by many collectors. A typical collector's response to this announcement might be as follows:
Aston Martin DBS Volante – good
1968 Ford Mustang GT/CS – good
Porsche Panamera – good
Caterham Superlight R500 – good
Garbage Grinder – debuted in 2012, missing from 2013. Not that popular.
1971 Pontiac Firebird – good.
Cadillac CTS – good. It debuted in 2011, and had been missing ever since.
Crop Master – not a very popular model, but it fits into the farming theme
International CXT – okay
1957 GMC Stepside – no doubt a good choice
3-axle Dump Truck – fits in with extended construction theme, but not a popular model. Also, why no MAN#? Is this being updated?
Quarry King – popular generic construction so good
Toyota 4Runner – good
Chevy K1500 Pick Up – old casting but welcome to some
Cliff Hanger – Not the most popular
Hummer w/ramp – updated MAN# (I am guessing the rear no longer opens)
Jungle Crawler – a decent generic and likely quite popular
VW Beetle 4x4 – okay choice
Jeep Hurricane – a number of Jeep castings are rotated, it seems it is this one's chance this year
International Brush Fire Truck – definitely going to be a popular choice
BMW X5 Police – updated casting, and I think a good choice
Armored Recon Vehicle – unusual choice perhaps no-one will care.
So what goes? Many are going to be logical, but there are going to be a few people upset with some choices....
Fisker Karma
Batmobile
1966 Dodge A100 Pick-Up
Austin Mini Cooper
1955 Cadillac Fleetwood
1954 Jaguar XK120SE
1957 Chevy Belair Convertible
1969 Chevy Camaro Convertible
1963 Cadillac Ambulance
Porsche Cayenne
Porsche 911 Carrera Convertible
Express Delivery
Dodge Viper GTS-R
Ice Cream Truck
Baja Bandit
2000 Chevy Corvette Convertible
VW Karmann Ghia Type 34 Convertible
2013 Ford Explorer
GMC School Bus
Chevy Van
Dodge RAM SRT/10
Jeep Rescue Concept
Cadillac CTS Wagon
Chevy Silverado
MBX Motorhome
Ford Shelby GT500 Convertible
TVR Tuscan S
Audi R8
BMW Mini Cooper Convertible
Rescue Helicopter
Austin FX4 Taxi
Gas Tanker
Skidster
Lotus Europa
VW Type 181
4x4 Buggy
VW Saveiro Cross
Mission Helicopter
Hummer H2 Concept
Isuzu Amigo
Mitsubishi Eclipse
Opel Speedster
Aqua King
Tractor Shovel
Rescue Boat
1978 Dodge Monaco Police
Jeep Willys Concept
2006 Dune Buggy
Out of these, I think the biggest shock is the Dodge A100 Pick-Up and VW Karmann Ghia Type 34. Both of these were brand new castings in 2013 and both are extremely popular. The Dodge in particular is probably the most popular new casting of 2013. The dropping of the Cadillac Ambulance is going to be a disappointment too. I notice the GMC School Bus is dropped and perhaps the Mega School Bus was intended to replace it, but that is nowhere on the list so we have no school bus at all. The 2013 Ford Explorer is another unusual deletion. Only debuting at the end of 2012, it had 2 outings in 2013 in the basic range and I wonder if they are giving it a year off to compensate. I see no flying vehicles in the range. Many collectors will see that as a good thing. A number of older returnees from 2013 have been immediately dropped. Some will not be noticed but the Dodge Monaco will be missed though, it has been replaced by the 1993 Mustang. It is disappointing to see no vans in the range.
All in all, it is not a bad range. But here are a few unusual statistics....
Cars – 2013 = 20 cars 2014 = 9 cars (fewer than half of 2013)
Construction – 2013 = 10 construction 2014 = 20 construction
Licenses – 2013 = 56 licenses 2014 = 45 licenses (roughly 1/5 less)
No flying, but additional water vehicles
Many collectors look for a good scattering of cars in the range and so perhaps they will be disappointed. Perhaps the removal of the flight related models is a good idea, when we have Skybusters. The fall in the number of licensed models will distress many collectors of authentic vehicles. We slipped to under half the range last year, but we drop quite a few more here. The range now consists of just over a third of licensed castings.
Of course the Matchbox team have to work under considerable restraints, not least in terms of budget and licensing, and you may find much that is pleasing in this year's range. You may not be impressed by some of the model choices but we have to remind ourselves that at the current retail price these models are, in the main, produced for very young children and their preferences will vary from those of collectors. Your comments and suggestions will be passed on to the Matchbox team.
C/N MB#
1 947 Porsche 911 GT3
2 839 Urban Tow Truck
3 776 Street Cleaner
4 823 Aston Martin DBS Volante
5 812 68 Ford Mustang GT/CS
6 887 Two Story Bus
7 816 Porsche Panamera
8 889 Food Truck
9 807 Caterham Superlight R500
10 850 Garbage Grinder
11 810 71 Pontiac Firebird
12 815 Cadillac CTS
13 886 Ground Grinder
14 834 Crop Master
15 840 Water Tanker
16 800 Road Roller
17 687 International CXT
18 786 57 GMC Stepside
19 3 Axle Dump Truck
20 745 Scraper
21 828 Pit King
22 704 Powerlift
23 882 All Terrain Crane
24 884 Dump Dozer
25 950 Tractor Plow
26 868 Torque Titan
27 856 Load Lifter
28 852 Trail Tipper
29 703 Tractor
30 946 Ground Breaker
31 853 Sowing Machine
32 737 Quarry King
33 222 Highway Maintenance Truck
34 712 Desert Thunder V16
35 864 International Scout 4x4
36 861 Sand Shredder
37 805 Toyota 4Runner
38 892 BMW R-1200 GS Motorcycle
39 845 4x4 Scrambulance
40 249 Chevy K1500 Pick up
41 891 Deep Diver
42 899 Questor
43 842 Blizzard Buster
44 795 Cliff Hanger
45 767 Quick Sander
46 833 Terrain Trouncer
47 847 Frost Fighter
48 952 Hummer w/Ramp
49 825 Road Tripper
50 797 Baja Bullit
51 782 Sahara Survivor
52 832 Jeep Wrangler Superlift
53 781 Rock Shocker
54 764 Toyota FJ Cruiser
55 838 Land Rover Defender 110
56 863 Vantom
57 788 Ford F-150 SVT Raptor
58 831 ATV 6x6
59 783 Jungle Crawler
60 748 MBX 4X4
61 819 Coyote 500
62 818 Dune Dog
63 723 VW Beetle 4x4
64 670 Jeep Hurricane
65 895 Road Raider
66 897 Blaze Buster
67 898 Whiplash
68 894 Turn Tamer
69 900 MBX Coupe
70 896 Range Rover Evoque
71 893 BMW M1
72 949 06 Fire Engine
73 935 BMW R-1200RT-P police Motorcycle
74 890 Amphi Flyer
75 771 Ford E-350 Super Duty Ambulance
76 858 56 Buick Century Police Car
77 843 Seagrave Fire Engine
78 824 SWAT Truck
79 755 Pierce Dash
80 885 Renault Master Ambulance
81 867 Lamborghini Gallardo Police car
82 817 Ford F-550 Superduty
83 855 Oshkosh M-ATV
84 933 Dodge Charger Pursuit
85 938 Ford F-350 Superlift Brush Truck
86 888 International MXT-MVA
87 821 Ford Police Interceptor
88 881 Blaze Blitzer
89 801 International WorkStar Brush Fire Truck
90 872 BMW X5(police)
91 510 Armored Recon Vehicle
92 866 Fire Smasher
93 751 Subaru Impreza WRX Police
94 784 43 Jeep Willys
95 969 92 Ford Mustang Police car New
96 902 Field Tripper New
97 903 Land Rover LR4 New
98 904 Garbage Gulper New
99 905 Alfa Romeo 4C New
100 906 63 Mack Model B New
101 907 Blockade Buster New
102 908 Crime Crusher New
103 909 Rapids Rescue New
104 910 Sahara Sweeper New
105 911 Toyota Tacoma Lifeguard New
106 912 Trail Tracker New
107 913 Mound Mover New
108 914 Ground Grabber New
109 915 Seed Shaker New
110 916 Dirt Smasher New
111 917 Mini Dozer New
112 918 Drill Digger New
113 919 Acre Maker New
114 920 Ford F-350 Stake Bed New
115 921 Terrainiac New
116 922 Snow Ripper New
117 923 Travel Tracker New
118 924 2014 Chevy Silverado 1500 New
119 925 Rumble Raider New
120 926 Sea Spy New
The five recolours were to have been these five models but as the #97 Land Rover LR4 has been postponed until 2015, another model will be selected from the standard line in due course. This will also apply to the #70 Evoque.
International Scout 4x4
Blockade Buster
Travel Tracker
Crime Crusher
Land Rover LR4
Note: Vehicle selections are subject to change at will by the Mattel Matchbox Team.
The Workstar Brush Truck is now being dispatched by Amazon. Mattel has responded to concerns regarding availability as follows: I am also hearing that our special 6oth Anniversary International Workstar Brush Truck in now available for delivery from Amazon. We do encourage folks from the UK and other countries across the pond to reach out to US collectors to get them in lieu of shipping issues that are occurring with Amazon
MATCHBOX ANSWERS YOUR QUESTIONS
1. What is happening with Walmart? Many stores seem to be discounting all Matchbox items. Is this Walmart dropping the brand, reducing the amount of stores taking them, or simply getting rid of stock to bring in new Matchbox items?
Walmart has been restructuring their die cast brands in some stores.
2. What is happening with the number of vans in the range? A few years ago there was talk of increasing the amount available due to the large area for tampo design on the sides. Yet recently they appear to have vanished. Models like the Ford Transit, VW Caddy, Ford Panel Van, 1956 Ford F-100 Panel Truck and 1965 Austin Mini Van. The only one that appears to be continuing is the Delivery Van. Please can we have more vans?
This will depend on the segment themes we have chosen for 2014.
Since we add new tools each year, some tools will drop out to make way for them. We also have issues with the weight of some of these vehicles. Note however that the 65 Austin Mini Van will reappear in the "City works" 5 pack this year.
3. Talking of Ford Transit, it has been a staple of the range since 1976. Has any thought been given to including the latest generation full size Transit?
Ford will soon introduce the redesigned Ford Transit (full size van) and the Ford Transit connect .
Hot Wheels showed their custom version of the Transit connect at the SEMA show last year. Matchbox won't pursue either model at the moment.
4. There was talk in a previous q&a about Swedish cars. Has any thought been given about retooling the Volvo XC90 into an emergency vehicle? It would simply be an alteration to the roof to incorporate a light bar, and then you could re-issue it as ambulances, fire vehicles or police vehicles - vehicles that will all easily fit in with the current categories.
This is a good suggestion. Thanks.
5. Are there any plans to work with Superlift again? We had the Ford F-350 Superduty and Jeep Wrangler. Could we see any more collaboration in the future?
It's possible.
6. The news that the Range Rover Evoque is hopefully on course for a release next year, will the model still be classified as a 2013 model when it does finally surface, or will it simply be released under its 2015 number? We would like to know so we can either keep the 2013 list open until it reaches stores or close it after the BMW bike hits stores.
The Range Rover Evoque will carry over into 2015 but as a 2014 model due the very late introduction.
7. Have you ever seen the TV series "Last Man Standing"? It is a Tim Allen comedy on ABC Friday nights. Quite often you see various Matchbox models laying around on the series. He drives an early 1950s pick up. I think it would be great if you could make a version of the GMC Pick up similar to his green one.
We have had a similar request regarding a Canadian TV series with the same model. We probably would not tie into a direct replica of either one as there could be licensing issues.
8. Do you know how many models in the 5-packs are exclusive? As pictures come out, it appears that some packs have barely anything exclusive in them.
For this year 36 models will be exclusive. 24 will be from mainline.
9. Will the Garbage Grinder be seen again? I loved that mould and it would be great in a National Parks livery. l hope we see it again.
Yes the Garbage Grinder will appear again this year in mainline.
10. Thank you for doing lime green fire apparatus. While not as popular as that other color in the States it is still used by many departments. Do you have further plans to use this colour on emergency vehicles?
This has not been determined yet but we are glad to hear that you liked this color choice.
11. British and EU emergency vehicles are using a fluorescent lime and red (fire) blue (police) and green (ambulance) checkerboard. Could the Matchbox designers ensure that the colour match is more accurate as these colours have changed?
We will do our best to create authentic colors when we can. This does requires research that we find on the net and certain colors must be approved by our licensors when using licensed vehicles.
12. We would love some campus police cars. It's Xavier from Barcelona, Spain (the MATCHBOX administrator of the Spanish uno64 forum). I still intend to send you questions from the Spanish collectors... it has been a hell of a time at work with many threatening deadlines, and I've been unable to sit down calmly to try to do a proper translation of the collectors' questions, worries and frustration. And that's one of the things that makes the task a bit more complicated: almost all the comments I'm collecting are full of bitterness, frustration and desperation as it is IMPOSSIBLE to get *fresh* Matchbox product in Spain. I'll try to send you the input this week, and filter a bit the bitterness (and some proper language) from some of them. But I'm contacting you because of a finding I made today which only confirms the frustration of us Spanish collectors w.r.t. Mattel and the way they handle (destroy, swipe) the Matchbox brand in Spain.
We welcome any questions that you may have from your home country of Spain.
There are six new images available to show this week. First is a new tool for 2014 and called Mini Dozer. It will be the smallest dozer produced under the Mattel banner. It does have a shovel that can be raised and yes it only has one arm.
The Deep Diver which will be used in both the singles mainline and in a 5 pack for this year.
The next three models will appear in the 1-120 line.
Lastly a new decoration for the Freeway Flyer (flying car) in the Sky Busters range has been revealed.
MB 55 Ford Cortina Mk IV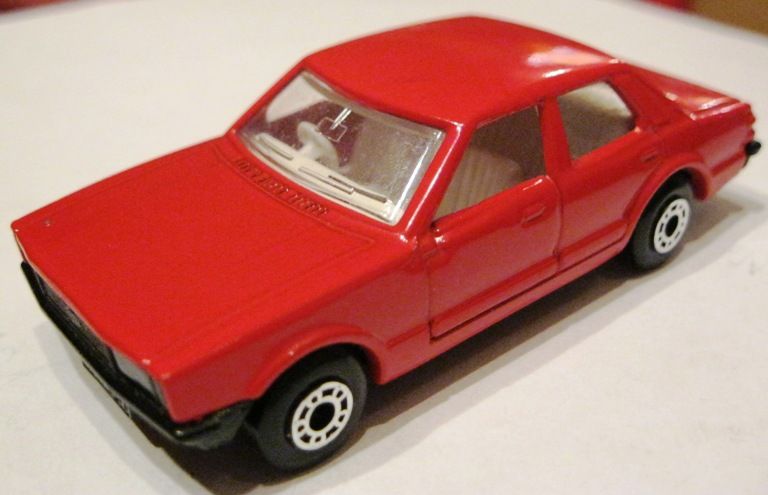 The first Matchbox Ford Cortina, a Mark II, was issued in the regular wheel series as MB254 in 1968 and continued into the Superfast era. Though deleted from the range in 1972, it was revived in 1986 in Bulgaria in a range of colours. The Mark IV Cortina was first shown as a new model in the 1979/80 pocket catalogue. Both models were fitted with opening doors.
Pre-production models of the Mark IV Cortina come in a range of colours, for a different colour may be in use in the paint shop at any one time and in the early stages colour was not important. These colour pre-production models were used to check for minor errors in production. As the development of the model proceeds the castings may reveal slight alterations. The very first casting, which was possibly assembled in the toolroom, used the first shots from the moulds and was painted light blue with a beige interior and amber windows. The unpainted base did not have an MB number, year of manufacture or the "dots" on either side of the base. At this stage the doors were loose.
The next stage, which led to the first colour trial run, still did not show a model number. The reason for this was simple. If a production problem occurred there could be a considerable delay before a model went into production and there might be a need for a replacement in the range. Sometimes, a problem developed very late in the production process and there are examples of pre-production models with the wrong base number for example the 57 Carmichael with 45 base, 54 Mobile Home with 52 on base, 38 Camper Van with 35 and 17 London Bus with 50.
One colour trial model was painted red with a yellow interior and amber windows and a black base. Another example, as shown, was painted white with a black, red or yellow interior and an unpainted base. By now the base number had been added to the base casting. When models with opening parts were manufactured, these parts had to be given a strength test. Close examination of the white model shown shows the driver's door missing. It had been pulled off in the strength test and was despatched to the waste bin for recycling. Some colour trial Cortinas were painted in the military green colour used on a number of range models at the time. Once the body colour had been agreed, in this case metallic lime green, discussion followed regarding the interior colour.
Following the colour trial models a final pre-production run of approximately 5000 models were produced which had to be of a quality good enough to be put on sale. Usually these are then destroyed and sometimes a very small number are released. (The yellow MB 8 Rover was an example of this). In this case the pre-production models were released for sale but the only difference between these and the normal issue models is that the early models had no patent number.
All subsequent variations, with the exception of the Chinese model, featured a patent number. The first colour change came with a bright metallic lime green colour which appears to be limited to the USA releases. The first worldwide colour change featured a metallic red body with a creamy yellow interior. A metallic brown version followed with a creamy yellow interior which soon gave way to a white interior.
Though the model was replaced as a single in 1983, it continued as a component of the Twin Pack range with a plain red body with the doors fixed shut. At this time Matchbox were selling their "Streak Racing" sets where the models in the pack featured luminous windows which glowed in the dark. Perhaps the most interesting of the red Cortinas were those found with light brown interiors and those with black bases.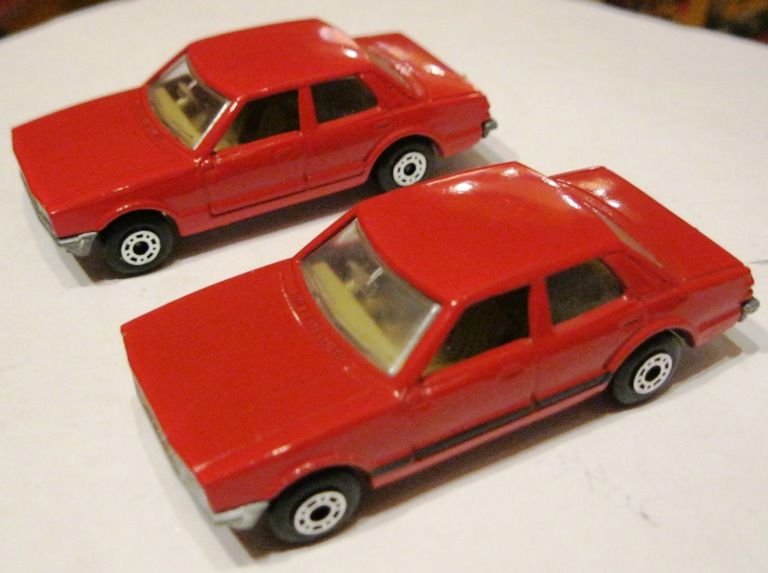 The final Cortina was only available in mainland China. Apprentices for the Shanghai factory learnt their trade on three models, one of which was a red Mark IV with tan and white flame tampo on the bonnet and roof. The base was painted metallic silver and was not cast with a patent number. The model was sold in a special blister pack.
Nigel Cooper 3rd March 2014